Buy Alumina Fish Spine Beads
Precision Ceramics has now launched a range of standard fish spine beads, all manufactured from high purity Alumina and therefore vacuum compatible and fully dense. The beads shown in the table below are the basis of our standard range and is available from.
About Alumina Fish Spine Beads
For many years fish spine beads have been used as a practical method of insulating wires with the beads interlocking together to provide continuous electrical insulation. Traditionally, the beads have been manufactured from a porcelain which although excellent for electrical purposes has not been mechanically strong or dense enough to be used in vacuum chambers or similar scientific instruments.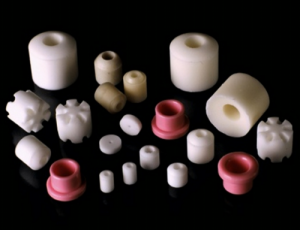 | | | | | |
| --- | --- | --- | --- | --- |
| 96% Alumina | 99.5% Alumina | OD | ID | Length |
| PC52 | PC51 | 0.090" | 0.040" | 1/8" |
| PC50 | PC49 | 0.090" | 0.050" | 1/8" |
| PC53 | PC47 | 0.125" | 0.056" | 1/8" |
| PC48 | PC54 | 0.170" | 0.063" | 3/16" |
| PC56 | PC55 | 0.330" | 0.133" | 5/16" |